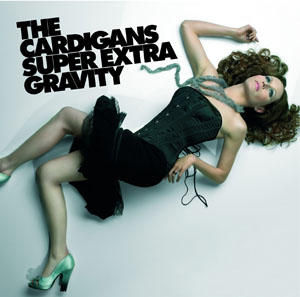 Every once in a while you think you have a band figured out, and then they issue a cd that just changes your opinion of them entirely. More often than not, its a disapointing change, but every once in a while it's a pleasant suprise. The pleasant suprise happened to me with
The Cardigans
last year.
True story here, way back on a spring break from college I was back home in Jersey. A group of us decided that we were gonna go up to NYC and try to get standby tickets for The Late Show with David Letterman. This was back when he was funny. Or at least thats what I tell myself. At any rate, we scored some standby tickets and were way up in the balcony. The guests that day included Marilu Henner, Marlon Wayans, and The Cardigans. This was shortly after Lovefool was a big radio hit for them. Of course they didn't play Lovefool. I think they played a song called Been it, but the main thing I remember more than the music was that
Nina Person
may be the most beautiful woman alive. I am pretty sure I owned their album, First Band on the Moon, at some point, but it never left a real lasting impression.
However, last year, after many good words from trusted sources, I bought their album,
Long Gone Before Daylight
and I absolutely loved it. It remains in my CD wallet to this day, almost a year later. The sound was just well different from what I expected, and from the first song,
Communication,
I was completely hooked. It just seemed to be a much more organic sound. And Nina's voice just was booming on some of the tracks. There was some Neil Young influences maybe, I don't know it just worked.
At any rate, yesterday being double stamp day at Luna I finally got around to picking up their new album,
Super Extra Gravity.
I was afraid to pick it up for a while, not knowing if
Long Gone Before Daylight
was an abberation for them, or not. But this just picks up right where that one left off. I can see this finding a spot in my CD wallet and staying ther for months as well. At any rate, you can check out the video for there brilliantly titled, "I need some fine wine, and you, you need to be nicer" on there website,
here.
I am glad these guys another shot.