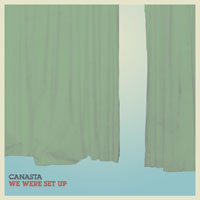 I have mentioned the band
Canasta
here before, but figured I would do it again today. Short story about Canasta, my birthday weekend in 2005, I went down to
Radio Radio
on a whim to see live music. I ran into ex Indianapolis native
Ben
who told me that I should stick around and see the band he was in, which happened to be Canasta, close out the night there. I was a bit tired after seeing
Asobi Seksu
the night before at the Patio (RIP) but figured, what the hell. I will stick around. I loved the show, and my two friends and I all bought the Find the Time ep
which you can download at the bands audio page.
Suffice to say we were impressed.
Well the main reason that I post about them today, is that it seems that other people are starting to notice and be impressed by them too. Over at
Pop Matters
, a fun site for just about everything, they were given a
fantastic review for there new album,

We Were Set Up.
With other bands seeming to break through with smart orchestral pop like
Margot and the Nuculear So and So's
(reminder, see them tonight at the Vogue!) I hope that Canasta is able to do the same.
On Canasta's website, be sure to launch the stand alone audio player and give them a listen. With that you will get full songs as opposed to the excerpts on the audio page. And with Easter around the corner, be sure to listen to "Praise to the Lord" on the audio player, a song which appears on a Catholic Hymn Compolation by
Cherry Bomb Records
in an effort to raise money for S.N.A.P. (the Survivors Network of those Abused by Priests). Cherry Bomb asked twenty-two Chicago artists to record heartfelt versions of popular Catholic hymns, and Canasta contributed the song I just mentioned.
Anyways, I've seen the band live twice now, and listen to the CD's quite a bit. I hope they get more press and more luck, and hope you like 'em too.