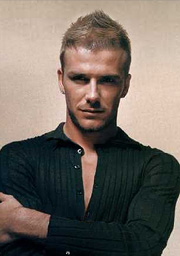 The
MLS
rumor mill is in full swing this morning. It is just days before the
SuperDraft
(yes, it's really called that) held here in of all places Indianapolis (more on that later). And now, apparently Fox and Friends reports that David Beckham is set to sign for the Los Angeles Galaxy in the near future.
Soccernet
is reporting that David beckham is on his way out at Real Madrid, but thats been known for some time. And it's been known for some time that MLS desperately wants him. In fact the designated player rule that MLS has put into place this offseason which allows teams to go over the salary cap is known far and wide as the Beckham Rule. So, with this Beckham Rule, who do my Columbus Crew propose to bring in? Brian McBride.
Let's talk Beckham first. Unconfirmed reports are that MLS will pay Beckham 36 million over 4 years. I am entirely on board with this. I understand many the arguments against this. MLS should be spending this money on player development. Doesn't MLS understand that these kind of contracts are exactly what sunk the last great professional soccer league in this country. Beckham will just be old here and collecting a paycheck and not give his all. I'll adress those one by one.
First, this 36 million to Beckham can go to player development, but what the hell does that actually mean? How would that be spent? A common argument is that MLS should have given higher dollar amounts to kids like Lee Ngyuen and Michael Bradley, or give dollars to Gooch Onweyu to return to MLS. Maybe, but look at the money MLS gave Eddie Johnson after a string of good World Cup qualifiers against never has beens. When you bring in a Beckham to this league it gives it intanst credibility and star power. Now you may have collegiate players deciding to stay and play in MLS with the added media attention it will recieve as well as the opportunity of playing alongside a legend. This is, in an extremely roundabout way an investment in player development. And yes, he still is a legend. The guy can still play. 36 million is not gonna sink this league. With the actual revenue coming into the league now through stadiums and what is still an absurdly small salary cap the league will not go boom under the weight of one contract. Finally, if Beckham were to decide to play in America, this is purely an ego move. Let's face it, the guy can still play for any number of teams playing in high levels of European competetion. But what does Beckham have to gain by playing for West Ham or Blackburn? What can he prove taht he hasn't already proven? But coming to America, and making soccer an actual topic of conversation, and more than a niche sport? That would be an accomplishment, and to just think of it takes an enormous ego. So come on over here Beckham, I'll purchase tickets for your first visit to Columbus and look forward to seeing you lose.
Speaking of Columbus, the Columbus Dispatch reports the Crew are looking a less than creative use of their designated player spot by
eyeing Brian McBride.
Once again I am completely for this move. Brian McBride was the face of the Crew for much of MLS's first decade. He is the greatest striker this country has produced. And he is showing at Fulham in the English Premier League that he can still play by leading the team in goals. If Columbus were to land McBride there would be moans that Columbus isn't looking towards the future that McBride is too old, and numerous other knee jerk reactions. Consider though, McBride has retired from international play and from all indications is on top of his game at Fulham. So, McBride would miss no more games for World Cup Qualifiers and would instantly give the Crew a scoring threat that they lacked last year. Instantly Brian McBride makes the Crew a better team, and his work ethic again serves as an example to the younger strikers on the team and brings their development forward. McBride won't get near Beckham money, but again, it's an investment in player development to bring in McBride to lead by example for the younger players. I would be thrilled if this would happen.
Finally, the MLS
SuperDraft
is Friday here in Indianapolis at the Convention Center. Yes, it's true that Indianapolis has no MLS team, but we do host conventions! And since the SuperDraft is held in conjunction with the
NSCAA
Convention and we hold that we get the
SuperDraft
as well. Awesome. I for one will be there with a sizeable number of Crew fans who will have made the trip out from Columbus. One would imagine Chicago will have a fair share of fans show up as well. As far as I know admission is free. And no, I don't know much at all about any players or prospects the Crew or any other team hopes to draft, but I look forward to making a day of it anyway and supporting my dearly beloved Columbus Crew. Perhaps I will see some of ya out there. Jim? Mike?
That's enough soccer for now, I guess.