It's a good weekend to be in Indy. Better yet if you are in Fountain Square, where most of the action is. Or if you live at my house, which is 20 yards away from a secondary hot spot.
Starting Friday night at the
Luna Music at 52nd and College
the consistently excellent
Mojave 3
will be performing an in-store at 6pm. Their latest album
Puzzles Like You
is this guy's second favorite album of the year. The new album finds Mojave 3 in a much poppier more upbeat place than some of their earlier work. Not that their early work wasn't poppy and wonderful, cause it most certainly was. It just did not get the booty shaking like many of the songs on the new record do. That instore is just a warm up for their show Friday evening at
Radio Radio
which I will definitely be at. From looking at last night's setlist in Chicago, it looks like it will be a fantastic show, with Tim O'Regan (formerly of the Jayhawks) and locals Svetlana opening. I will be there for sure.
Before that show though, why not stop by
Big Car Gallery.
At Big Car there will be an opening for Local artist Kyle Ragsdale and his new show
Unbeknownst,
which sounds pretty awesome.
In this show, artist, Kyle Ragsdale and historian, John Beeler have collaborated to shed light on several long-forgotten events in Indianapolis' history. Ragsdale's paintings beautifully capture the mystery of these often overlooked stories. Beeler's accompanying text provides the fascinating details of the people and places buried in the city's past. As Beeler explains, "We are not just trying to dig up new information, but rather recast some of these places in a different light. We have made every attempt to shimmy up to the "truth" of each place, but all of us are well aware that truth is an elusive beast. After all, "history," wrote historian Carl Becker, "is an imaginative creation."
Saturday may be a day of rest. Actually I will be working from about 8am-11pm. I just don't want to think about it.
Sunday is gonna be interesting.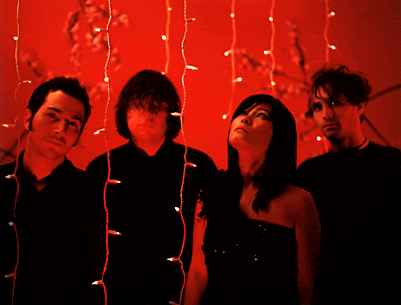 The cats who have made my favorite album of the year
Asobi Seksu
are playing at Radio Radio as well. My #1 and #2 shows I would want to see here in one weekend! Ridiculous, right? Too good to be true, correct? Actually, yes.
A new indoor soccer session kicks off Sunday night at the Sportzone up on 66 and Coffman (a ways from the wonderful smoke free environs of Radio Radio and yours truly has kickoff at 11pm Sunday evening. Obviously, I can not miss the first game of the season. But, obviously I am meant to see Asobi Seksu.
Thank you Luna Music. Thank you for opening a store within spitting distance and giving Asobi Seksu an instore so I can see them at 430, even though I will miss them later that day. If you like walls of sound, or songs sung in Japanese, or just well constructed songs, you can't miss this. I saw these guys a few years ago on my birthday, and it was one of the best concerts I had ever seen. It still is.
A great art opening, two great in-stores, a two great and affordable shows at Radio Radio ($20 will get you into both!), and the start of a new indoor soccer season. Fantastic.